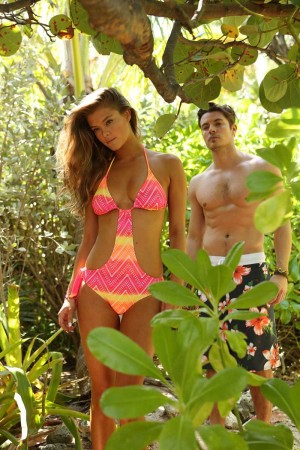 NEW YORK, Mar 12, 2014/ — Shot on location in Miami by photographer Larry Bartholomew, behind the scenes footage of the Op Spring 2014 Campaign photo shoot portray Nina Agdal, Josh Henderson, Cailin Russo like your typical Spring breakers – enjoying the sun and the beach.
Aptly named "Sunshine State of Mind," the Op Spring 2014 campaign has a laid-back, carefree feel, representing the brand's authentic, surf-inspired heritage. With Op being known for fusing beach culture with fashion, that take on the campaign is not surprising.
So, from our vantage point, we get to see Sports Illustrated Swimsuit cover model Nina Agdal, actor Josh Henderson star of TNT's "Dallas," and model/actress Cailin Russo best known for starring in Justin Bieber's music videos, show off their toned bodies as they are photographed enjoying a beautiful day at the beach.
Josh commented, "It's pretty cool for me to be a part of this campaign – I'm a laid back, active guy and I just like to be comfortable and that's a lot like what this brand is."
Nina commented, "My favorite piece of the day was definitely my one piece crochet swimsuit, it was really fun and colorful."
Dari Marder, chief marketing officer at Iconix Brand Group, Inc. commented, "The dynamic between Nina, Josh and Cailin was fantastic, which made shooting this campaign a lot of fun. Josh is such an all-American gentleman, which the girls loved, and we felt so fortunate to get to work with Nina right after her stunning Sports Illustrated Swim cover."
The national multi-media marketing campaign will debut in May issues of fashion, lifestyle and entertainment magazines, as well as outdoor and online at www.op.com.
The actors join previous Op spokespeople including: Kellan Lutz, Ashley Tisdale, Sarah Hyland, Rumer Willis, Dianna Agron, Mark Salling, Chord Overstreet, AnnaLynne McCord and more, as the faces of the brand.
For the campaign, Nina, Josh and Cailin are wearing the spring-summer Op collection of juniors and men's apparel and accessories in the campaign, exclusively available at Walmart in the United States and online at www.walmart.com
.