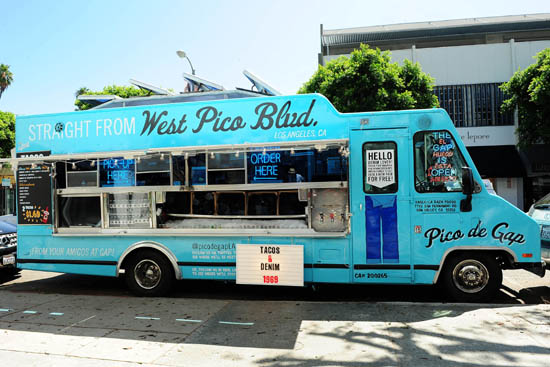 SAN FRANCISCO, Aug. 13, 2011 / — Inspired by a late night team dinner at a food truck in Los Angeles, Gap is taking the vibe of its denim design studio on the road with a custom vintage taco truck.
Launched Wednesday in four markets, Pico de Gap will serve custom menus exclusively "designed" by local chefs, including best-selling author Katie Lee in New York, Top Chef's Marcel Vigneron in Los Angeles, Top Chef's Ryan Scott in San Francisco, and Rick Gresh of David Burke's Primehouse in Chicago.
While food trucks have become a coast-to-coast craze, boasting everything from sushi and dumplings to street sweets and schnitzel, Gap is sticking with the "original" food truck that started the now nationwide trend.
"The idea of Pico de Gap—and the taco truck used in our fall campaign 1969: L.A. and Beyond—came about one night when I was having dinner with our 1969 design team in downtown L.A.," said Seth Farbman, Gap's Chief Marketing Officer.
To create an authentic aesthetic, each P ico de Gap truck was hand-painted and includes a replica of a vintage Gap ad and neon sign from the '70s. Customers can check out the latest 1969 fall denim styles on display while enjoying tacos for a $1.69. With proof of a same-day Gap denim purchase, the meal is free. Additionally, every customer will receive a coupon for $20 off their next Gap 1969 denim purchase and some lucky patrons will even receive a special coupon redeemable for a free pair of Gap 1969 jeans up to $90.00.
Gap's 1969 fall collection continues to demonstrate its commitment to bringing the same premium fabrics and fits as other premium denim brands at a much more accessible price point. Signature fits for women include the Legging Jean, High Rise Pintuck Trouser and Skinny Boot, while signature fits for men include the Drop Crotch Skinny, Slim Trouser and Slouchy Slim Rocker.
Pico de Gap Chefs
Fashion and food guru Katie Lee will satisfy New Yorkers with her broad range of culinary experiences, from serving as the food and lifestyle correspondent for the CBS Early Show to writing culinary features for an array of magazines.
On the West Coast, Top Chef runner-up Marcel Vigneron of The Bazaar is the innovator behind the Los Angeles truck's imaginative cuisine.
Additional Top Chef alum and restaurateur, Ryan Scott, will satiate the fashion foodies of San Francisco bringing expertise from his very own food truck 3-Sum Eats. One of Scott's delicious creations will consist of mole-braised brisket, pumpkin seeds, red onion marmalade, queso fresco and Mexican chocolate vinaigrette.
Culinary mastermind Rick Gresh, executive chef of David Burke's Primehouse, will bring his creativity and profound knowledge of fine cuisine from the dining room to the streets of Chicago. Patrons can indulge in a savory feast from a menu that includes farmer's market queso fundido and dry aged steak, chicken chorizo and pork belly tacos.
Each Pico de Gap truck will stop by music events, nightlife hotspots, festivals, farmers' markets and select Gap stores. To find out where the truck will head next, patrons can track the specific locations daily by following Pico de Gap on Twitter: Los Angeles (@picodegapLA), San Francisco (@picodegapSF), New York (@picodegapNY) and Chicago (@picodegapChi) and by visiting Gap's Facebook page: Facebook.com/gap .