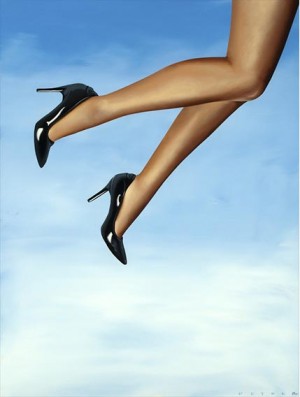 NEW YORK, Jan 29, 2012/ — Martin Lawrence Gallery, exclusive representative of Robert Deyber, presents Guns, Gaming and Glory; the latest body of work from the master of the paintbrush and pun.
These new richly painted canvases are geared toward the American man, taking into account the recent trend toward more traditional pursuits and sartorial styles.
Deyber's talent is to take a common-phrase and reinterpret it visually, thereby making the familiar suddenly unfamiliar to the viewer.
For the baseball enthusiast there's At the Drop of a Hat (Yankee Hat), which depicts the famed home-team cap falling through an atmospheric sky. While a large scale painting of a rabbit with his Jagermeister, beer and cigarettes is aptly titled Bad Hare Day. Even Harry Truman's favored phrase, The Buck Stops Here, gets the Deyber treatment – a large stag halted by a Stop sign.
His unique mix of dark humor and skilled brushwork is what has made Robert Deyber a favorite among collectors and celebrities alike.
Deyber collectors transcend all traditional boundaries. Private and corporate collectors throughout the United States as well as throughout Europe and Asia have acquired Deyber's paintings. His work has strong appeal and continues to be collected by many in the entertainment industry, including independent film producers, well-known screenwriters and designers.
Musician Tom Petty is one of the artist's champions and commissioned Deyber to create his 2006 album cover for Highway Companion.
These new paintings are keyed toward the "urban woodsman", the dashing Don Drapers and the Steve McQueen enthusiasts. References to poker, wild animals, sports and sex, are set to a backdrop of sweeping skies and burnished landscapes – a satisfying mix of unquestionable talent and tongue-in-cheek humor.