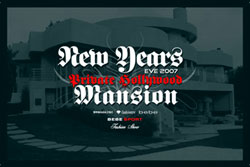 LOS ANGELES, Dec 28, 2007 / FW/ — Christmas might be over but New Year is just around the corner and on New Year's Eve, FashionWindows had been invited to attend a very exclusive party featuring a fashion show by Bebe Sport and performance by Angelica Bridges and her troupe Strawberry Blonde.
With the glitterati of the music, movie and television industries expected to attend, New Year's Eve in Los Angeles promises to be full of stars, no matter what the weather may look like.
Some of the confirmed attendees of the event are: Jermaine Jackson (The Jackson Five), Sterlen Roberts (Recording artist), Raz B, J Boogs, Lil Fizz of B2K, Jai Rodriguez (Queer Eye for the Straight Guy), Shaun Toub (The Kite Runner), Rex Lee (Entourage), Daveigh Chase (Big Love), Andrew Keegan (7th Heaven), Jessie Garcia (The Comebacks), Joseph D. Reitman (Lady in the Water), Annie Duke (World Series of Poker), Debra Wilson (Mad TV), Ian Ziering (Beverly Hills 90210), Chris Martin (Aliens vs. Predator Requiem), Harvey Walden (Host of Celebrity Fit Club), Midi Mafia (Grammy nominated record producers), Chris Judd, Judd Nelson (The Breakfast Club), Kenny Johnson (The Shield), Christopher McDonald (American Pie Presents: Beta House), Mitch Sacharoff (Producer of Kalifornia), Ernie Hudson (OZ), Cordele Taylor (Epic Movie), and several more presently confirming…
FashionWindows will be there to cover the event, so stay tuned!