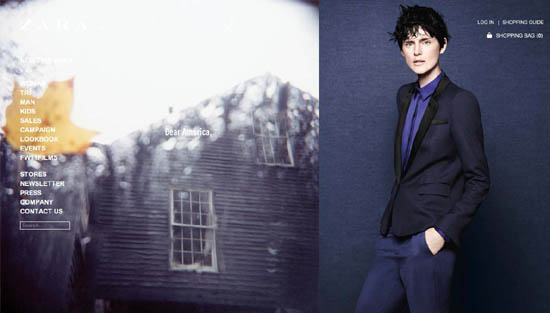 NEW YORK, Sep 6, 2011/ — Fashion concept Zara, part of Inditex, one of the world's biggest fashion retail groups, is launching online shopping in the United States tomorrow, September 7, at www.zara.com, offering free delivery to all 50 states. Zara's online platform will sell the full range of women's, men's and children's clothing that are also available in-store.
Delivery options
Garment prices are identical online and in-store and there are two classes of delivery: standard and express. Shoppers opting for standard delivery will receive their orders at home for no charge within two to four days. Similarly, purchasers can opt to pick up their orders at the store of their choice, also free of charge, within a period of three to five days.
The other option is express delivery: home delivery within 24-48 hours for a flat rate of $9.95. Regardless of the selected delivery option, product orders will be wrapped in purpose-designed eco-friendly packaging which keeps purchased garments in an optimal state until delivery.
Payments can be made using all the standard e-commerce payment methods such as PayPal plus all major credit cards, including Visa, Master Card and American Express.
Free exchanges and returns
The exchange and return policy is identical to that offered in-store: during a 30-day period and free of charge, unwanted items can be picked up at home or returned to Zara stores. Zara has hired a logistics operator with a proven track record in the field to handle nationwide distribution.
www.zara.com users can also call toll-free customer service (855-635-9272) or write to a dedicated e-mail address for help with order-related queries or problems.
User-friendly
The www.zara.com website has been designed to make online shopping as consumer friendly as possible. The garment search function has been enhanced by a number of filter options (by garment characteristics, colors, sizes, prices, etc.). Shoppers can also find specific items by reference number, garment description, category, etc.
Shoppers can view their shopping baskets at any time while browsing, editing their product selections right away. Shoppers wishing to pick up their orders at a conveniently located store can use a store search and mapping tool to automatically locate the nearest Zara store.
The website displays visual content of the collections with photos, lookbooks, videos, etc. so that shoppers can get an overall impression of the current range; moreover, this content can be shared on the various social networks. Users can also sign up for a newsletter to keep them abreast of the latest fashions and trends.
The www.zara.com website has been designed to ensure shopping compatibility using any of the browsers available in the marketplace.
Free standard delivery across 50 states
All products retail online at same prices as in Zara's stores