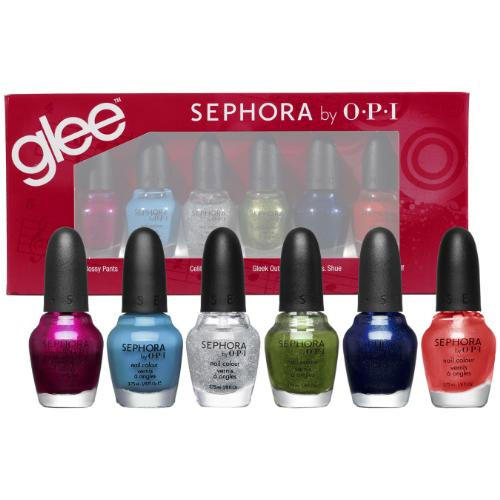 LOS ANGELES, Jan 11, 2011 / — The Gleeks can have a field day today! Sephora announced today the launch of "Sephora by OPI goes Gleek Chic", a limited edition range of nail colors and prints.
Expected to reach store shelves on Feb 3 at all Sephora locations in the U.S. and Canada including Sephora locations inside JCPenney's, the "Sephora by OPI goes Gleek Chic" collection will feature a limited edition range of 10 new nail colour shades and three print nail design appliques inspired by the show's colorful cast, fantastic music numbers and comedic references that all Gleeks know and love.
Its launch will coincide with the much-anticipated special episode of GLEE that will air following Super Bowl XLV on FOX.
Fans will also be able to catch a glimpse of the Sephora by OPI Glee polish during the series' upcoming Valentine's Day episode on February 8th, which will feature the characters Mercedes (Amber Riley), Tina (Jenna Ushkowitz), Brittany (Heather Morris), Santana (Naya Rivera) and Lauren Zizes (Ashley Fink) donning the colors.
The Sephora by OPI GLEE Collection Nail Colours will include individual full sized colours and a six-piece mini-set collection that will feature exclusive colours only available through purchase of the set. The Sephora by OPI GLEE Collection Chic Prints for Nails Design Appliques are easy-to-apply, precut strips that will be available in three different GLEE-inspired designs.