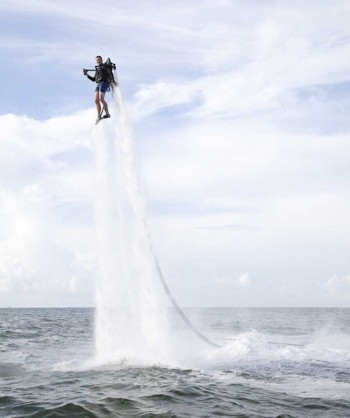 Finally, technology has caught up with your fantasy about jetpack flight! One part sci-fi, three parts British secret service agent, and 100 percent pure adrenaline rush, your water-propelled jetpack is about to send you soaring.
Your JetLev package includes jetpack, boat unit in NM Exclusive color with graphics, hose/control cable assembly, jetpack stand, 2 helmet radios, 2 FRS radios, remote throttle-control transmitter, CFI 1 Pilot Certification Training & Safety course.
For every JetLev R200 sold, Neiman Marcus will donate $2,500 to the Boys & Girls Clubs of Broward County, an organization that helps young people, especially those who need them most, to reach their full potential as productive, caring, responsible citizens.
($99,500; page 69 of the Neiman Marcus Christmas Book)