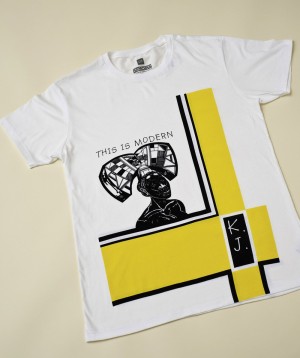 SAN FRANCISCO, Jan. 18/ — To celebrate the San Francisco Museum of Modern Art (SFMOMA)'s 75th anniversary, Gap is collaborating with the museum to introduce a unique line of eight limited-edition artist-designed T-shirts.
The T-shirts were designed by nine well-known artists who have connections to the Bay Area, including Rosana Castrillo Diaz, Simon Evans, Chris Johanson, Kerry James Marshall, Barry McGee, Ed Ruscha, Leslie Shows, and Larry Sultan and Mike Mandel.
All of these artists are also represented in the series of SFMOMA's anniversary exhibitions and programs entitled 75 Years of Looking Forward.
"As a San Francisco-based company with a long history of supporting the arts, we're honored to partner with SFMOMA to celebrate the museum's 75th anniversary," said Marka Hansen, President of Gap North America. "This limited edition T-shirt collection celebrates the intersection of art and fashion and enables people to experience the work of these distinguished artists in a different way."
Starting January 16, the T-shirts will be available for $24.50 at the SFMOMA MuseumStore, online at sfmoma.org/museumstore, and in 13 Bay Area Gap stores–including Stonestown Galleria, Chestnut Street, Embarcadero Center, Jefferson Street, Market Street, Post Street in San Francisco; Bay Street in Emeryville; Northgate Mall and The Village at Corte Madera in Marin County; and Hillsdale Mall, Burlingame Avenue, Stanford Shopping Center, and Valley Fair Mall in the South Bay.
"We're delighted to partner with Gap and this amazing group of artists to recognize our 75th anniversary," states SFMOMA Director Neal Benezra. "It will be a great pleasure to see the Bay Area community wear these original T-shirts with pride throughout our anniversary year."
The SFMOMA MuseumStore is also producing a special line of products designed in honor of the 75th anniversary, including mugs, T-shirts, hats, notebooks, sketchbooks, luggage tags, business card holders, water bottles, coffee tumblers, and tote bags that will feature the 75th anniversary "starburst" logo. Print-on-demand posters featuring artworks from the suite of SFMOMA's 75th anniversary exhibitions will also be offered.
For more information, visit sfmoma.org/anniversary