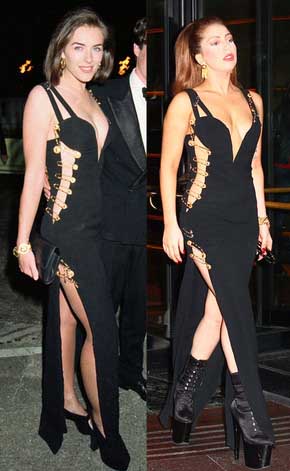 DALLAS, Oct 11, 2012/ — Last October 2nd, in Milan, Lady Gaga wore a Gianni Versace original – the "safety pin" dress that became part of Elizabeth Hurley's notoriety.
The iconic black safety pin dress with plunging neckline and cut out sides held together by gold safety pins has captured not only the fashionista's imagination but the entire world. To say that it is unforgettable is an understatement.
Case in point, last time it was seen was in 1994 when Elizabeth Hurley wore it. Eighteen years later, Lady Gaga wore the same "safety pin" dress and all of sudden, photos of Elizabeth Hurley was hurling in cyberspace.
The events might be 18 years apart, but who wore it better?